Discover more from The Nats Report
The latest news, analysis, headlines, and more about the Washington Nationals and Major League Baseball.
Over 1,000 subscribers
⚾️⚾️ The Morning Briefing: the World Series is set
Here are the latest headlines and analyses around the Washington Nationals and Major League Baseball for today, October 25.
Good Morning Washington Nationals Fans,
Here are the latest headlines and analyses around the Washington Nationals and Major League Baseball for today, October 25, 2023. I am Richard, Haden is off today so I am filling in for him today.
Upgrade your subscription to get our weekly round-up of the biggest Washington Nationals stories over the past week, minor league game notes, and more MLB headlines.
Leading today's Morning Briefing: the 2023 World Series is set
Last night, the Arizona Diamondbacks clinched victory in Game 7 against the Philadelphia Phillies, securing their spot in the 2023 World Series. This marked the Diamondbacks' second pennant in franchise history and their first since 2001. What's even more remarkable is that they managed to triumph over a series of seemingly stronger teams and unfavorable odds to emerge as the champions of the National League. They will be facing the Texas Rangers, who will represent the American League in this year's World Series.
The Diamondbacks faced a tough start in the NLCS, dropping the first two games to the Phillies. However, they made a stunning comeback with a walk-off win in Game 3 in Arizona. They were also able to turn the tide when the series shifted back to Philadelphia, winning both Games 6 and Game 7.
From a Nationals perspective, for those fans wondering if their team can make a return to the World Series, it's worth noting that just two years ago, the Diamondbacks suffered a disheartening 110 losses. Through a process of rebuilding that included the emergence of rookie Corbin Carroll, a more refined rotation, and a significantly improved bullpen, the Diamondbacks managed to reverse their fortunes this season and secure 84 wins. They now join the ranks of the 2023 Texas Rangers, the 2022 Philadelphia Phillies, and, of course, the 2019 Washington Nationals as the most recent Wild Card teams to reach the World Series.
Related articles:
While we were discussing the Phillies, I came across an intriguing article in The Washington Post that I'd like to touch upon. Titled "The Phillies are what makes October baseball great. Can they win Game 7?" and written by Barry Svrluga, the article expressed support for the Phillies in the latest game. This support stirred some dissatisfaction among Nationals fans on social media, as our local newspaper openly rooted for a team within our own division.
I'd like to address this matter briefly. I'm not entirely certain why the local newspaper would openly endorse a playoff success for a division rival. I understand the viewpoint of some of you who believe that Barry was penning the article from a broader baseball perspective, suggesting that the Phillies are beneficial for the sport as a whole.
In my view, one could make that argument, and I don't necessarily disagree with the article's underlying premise. However, I believe such a perspective is more fitting for a news outlet that covers baseball from a national standpoint, rather than a news outlet primarily focused on local team coverage.
Here at the Nats Report, I strive to infuse a Nationals perspective into articles that discuss baseball on a larger scale. Mr. Svrluga, in my opinion, missed the mark by not incorporating our local perspective into his piece.
ICYMI: Latest articles on the Nats Report
Even though it is the offseason, we have been extremely busy producing a lot of great content here on the Nats Report. Here are just a couple of the articles that we have published this week that you might have missed:
We are working on a lot of great Nationals-themed content all off-season so make sure that you are following us on all the major social media channels for the latest.
We need your feedback
Now that is the offseason, we want to prepare the best content that you need the most. We've added three writers to the team since the end of the season, and we want to know how we can improve and best curate the content for you. Let us know what you want to see and read from us in the survey linked here.
The Nats Report: League League Edition
For those who follow me on social media, you know that my son, Herschel is currently playing in his first season of little league baseball. It has been watching him and his first taste of playing baseball over the past few weeks. Actually, it has been a lot of fun! I wanted to share with you an update.
His baseball team is currently in the second round of thier own playoffs, after winning thier first-round game on Monday night. Tomorrow night, they will once again face off and hope to advance to the third round of the playoffs!
Here are two pictures of Herschel that I wanted to share.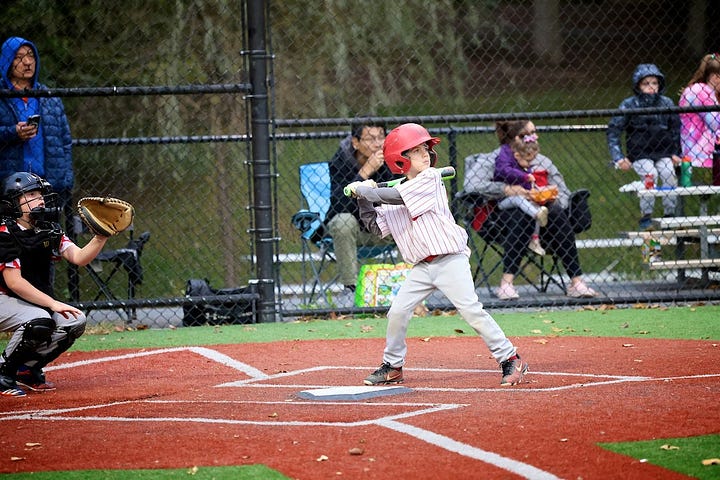 Fan Corner: Your Nationals Stories
Do you have a memorable Nationals story or experience you'd like to share with our community? Whether it's a special moment at the ballpark, an encounter with a player, or a favorite Nationals tradition, we'd love to hear from you! Send us your story to Themorning@thenatsreport.com and we might feature it in a future weekly or Morning Briefing.
Featured Stories of the Day
---
If you haven't already, please consider supporting this publication with a paid subscription so you don't miss a thing:
The Nats Report is an independent reader-supported project with both free and paid subscriptions.
The Nats Report is an independent reader-supported project with both free and paid subscriptions and not affiliated with the Washington Nationals.
Those who opt for the paid edition are providing vital assistance to bolster our independent coverage of the Washington Nationals and Major League Baseball.